Electrical Panels
Leave your panel work to the professionals
First Time Customers get 10% off!
VA Beach
Secure your property's electrical.
Norfolk
Improve your family's energy efficiency.
Chesapeake
Make sure your wiring is up to date.
Do you live in an older home? Do you find yourself flipping breakers all the time to restore power to different areas of your home or office? If so, your home's original electrical panel may not be adequate to support your modern family's electrical needs. Plus, your electrical panel may not be up to code. This can become a fire hazard down the road. To update your home's electrical panel call Real Estate Electric for a free quote.
When should you update your electrical panel?
If you own an older home, it's crucial to consider the impact of adding new electrical appliances or features. Overloading your outdated electric panel can lead to overheating and potential safety hazards. At Real Estate Electric, we understand the importance of maintaining a reliable and efficient electrical system in your home.
With our expertise in electrical services, we help homeowners like you navigate the challenges of outdated panels. While the average lifespan of an electric panel ranges from 25 to 40 years, it's essential to assess your specific panel's condition and functionality. Our team of qualified electricians will conduct a thorough inspection to determine the health of your panel and provide expert recommendations tailored to your needs.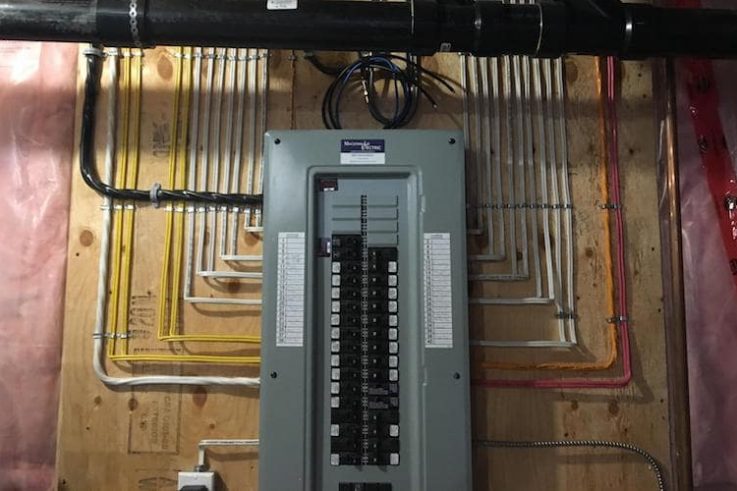 National Code & Inspections
(Will comply with National Electrical Code)
Grounding and Bonding Check
Service Panel Location
Service Conductor Capabilities
Hampton Roads Areas We Serve
Norfolk
Suffolk
Chesapeake
Need an Emergency Electrician? Give Us a Call!
24hr notice: Costs are Higher After Hours
What are the types of electrical panels?
Basically, you'll find three types of electrical panels. The main panel houses your circuit breakers. It's the heart of the home's electrical system. Then there's the subpanel which distributes the electrical load. The third panel type is called the service panel. This sends power to different areas of the house.
What is the standard electrical panel?
100 amp electrical service is the rule of thumb for most homes. It's also the minimum requirement set by the National Electrical Code (NEC). A 100-amp service panel usually provides adequate power for a medium-sized Virginia Beach home. It would be enough to cover several 240-volt appliances like a stove, water heater, central air-conditioning unit, plus an electric car charger.
What is the difference between a breaker box and an electrical panel?
There's no difference. You'll typically find your home's electrical panel in the garage or a utility closet. It's a tall metal box mounted to the wall with a cover door (usually gray or silver). When you open it you'll see the circuit breakers. Circuit breakers are mechanical switches that can tell right away if there's an overage of current. When that happens, the breaker will cut off the flow of electricity. You can tell which breaker tripped because the switch is pointing to the opposite side of all the other switches in the box. They can simply be reset by flipping the switch back in place.
What is an electrical power panel?
Electrical panels are also called breaker panels, load centers, service panels or breaker boxes. It's the steel box that houses your home's circuit breakers. In the event of an overload or short circuit, the circuit breakers "trips" the circuit that carries power to that area of your home. If you've ever tried to operate a hair dryer, a fan, and dishwasher on the same circuit, you may have experienced a loss of power. A simple flip of the switch in the breaker box will restore power.
We would really love to be your electrician. Call us to get started.